VEILIGHEID SPRAY SHIELDS
Veiligheid Spray schilden worden gebruikt om te voorkomen dat schade aan personeel of schade aan apparatuur in geval van een lek of spray-out van zuren, bijtende producten, chloor en andere gevaarlijke vloeistoffen bij leidingen verbindingen (zoals flenzen, kleppen of uitzettingsvoegen) gevonden in chemische, pulp/papier, petrochemische industrie en afvalwater zuiveringsinstallaties. Deze veiligheid schilden worden vaak aangeduid als flens bewakers, flens covers, flens luiers of flens beschermers. Onze veiligheid Spray Shields zijn opgebouwd uit 100% PTFE stof, PTFE gecoat polyester weefsel, PTFE coating Kevlar weefsel, polypropyleen bekleed Silicone stof, PVC gecoate Silicone weefsel, polyethyleen Softcoated Silicone stof en worden gebruikt ter voorkoming van de spray-out van gevaarlijke chemische stoffen te wijten aan pakking of verpakking mislukking op flenzen, kleppen en compensatielassen.
DOEK
Onze schilden plastic doek zijn vervaardigd uit één en meerdere lagen duidelijk doek voor gemakkelijk zichtbaarheid of een gekleurde doek met een lek patch die aangeeft. Weep gaten gelegen achter de gevoelige pH die aangeeft patch toestaan de indicator onmiddellijk signaal van een lek en kleur wijzigen in rood in het bijzijn van een zuur of groen als een alkali. De pH-patch is ook vervangbare waardoor hergebruik van het schild. APS schilden zijn UV-gestabiliseerd en resistent zijn tegen zon, regen, en rook en kan worden gebruikt binnen of in openlucht. Onze schilden doek zijn snel en eenvoudig geïnstalleerd door één persoon zonder gereedschap door middel van een klittenbandsluiting en riempjes die standaard zijn.
Doek schilden beschikbaar in vijf verschillende materialen en acht verschillende stijlen.
Kan worden aangepast voor enige en alle speciale eisen of toepassingen.
Beschikbaar voor alle standaard 50mm ~ 300mm flenzen Shields.
PTFE
PTFE bekleed glas doek.
PTFE coating Kevlar weefsel.
PTFE draad en koord.
Maximale bedrijfstemperatuur tot 260C / 500F.
Brand en scheur resistent.
Drie stijlen beschikbaar in standaard, éénlaags en duidelijke PTFE.
Standaard kleur is bruin.
Breed Spectrum van chemische weerstand.
Standaard
Onze meest populaire en best verkochte schild.
3-lgs rec. tissue meerdere lagen versterkte constructie.
Laboratoriumtest bewezen.
Enkel-laags
Gelijk in ontwerp aan standaard PTFE shield.
Dezelfde kwaliteit constructie met uitzondering van single-gelaagde voor minder zware toepassingen.
Duidelijk PTFE
Gelijk in ontwerp aan standaard PTFE schilden.
100% duidelijk PTFE strip in het midden van het schild staat voor visuele inspectie.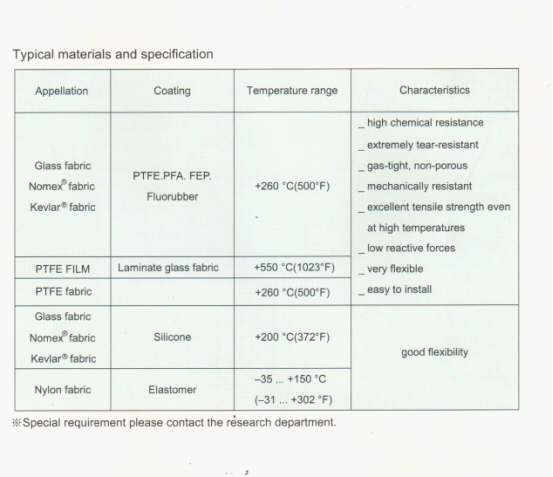 Product Categorie : Veiligheid Spray Shield